Join the Harvest Gospel Choir this Fall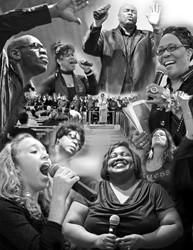 Sing in the Harvest Gospel Choir this Fall for the 31st Annual Harvest Gospel Concert Series!
Artistic Director: Minister Maryanne McElroy
Share the sound of music from the soul! Open to all singers!
A non-denominational celebration of music
Singers must be available for five rehearsals & TWO performances.
Register at First Rehearsal: Saturday, October 14, 2017
All are welcome. No auditions to participate.
2017 REHEARSAL DATES
Saturday, October 14 (register at first rehearsal)
Saturday, October 21
Saturday, October 28
Saturday, November 4
Saturday, November 11
Time: 6:00 – 9:00 PM
~ ~ ~ ~ ~
Free Community Concert Series presented by East End Arts
All concerts start at 8:00 PM
Friday, November 17 at Mattituck Presbyterian Church, 12605 Main Rd, Mattituck, NY
Saturday, November 18 at Friendship Baptist Church, 59 Anchor Street, Flanders, NY
Share the joy of music from the soul! This series of free concerts features the Harvest Gospel Choir and guest soloists, led by Artistic Director of 31 years, Minister Maryanne McElroy, in this non-denominational celebration, connecting many community members, together sharing the joy of music from the soul.
Photos by © jonholderer.com