Calls for Artists
Adult Jewelry Class: Clasps and Wraps in Silver or Gold
MONDAYS, September 25, October 2, 16, 23, 30, (no 10/9), 2:00 – 4:00PM (5 classes)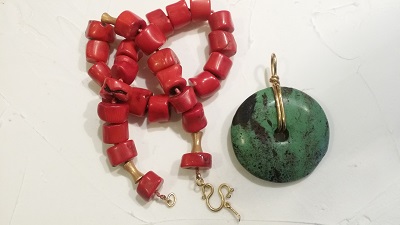 Location:
East End Arts School, 141 E. Main Street, Riverhead, NY 11901
Description:
Instructor: Eleni Prieston
It's all in the details! Enhance your piece with a bold clasp or bale and learn to wrap chains with your pearls or stones and to construct a center piece that is detachable from your handmade necklace. Eleni Prieston will show you how to construct your necklace so that you can wear it with or without an attachment...clip on, clip off! Basic or advanced, you will make a 2 in 1 stunning piece using wire, sheet metal and your favorite stones or beads.
Cost: $200 EEA members / $240 non-members *
MONDAYS, September 25, October 2, 16, 23, 30, (no 10/9), 2:00 – 4:00PM (5 classes)

*Asterisk applies to courses that require an additional materials fee paid to the instructor. Please call to find out materials fee amounts for the courses you are interested in.


Advance registration required:

CLICK HERE TO REGISTER >>

To start registering for classes online at the discounted member rates, click the above link to begin registering for classes and be sure to add your membership level when checking out.
If already a member and new to online class registration, please call 631-369-2171 to confirm your online account is set-up to register at the discounted member rates.