Calls for Artists

JUMP TO: East End Arts Gallery | Entry Forms | Other Opportunities at East End Arts


Opportunities for Artists in the East End Arts Gallery

East End Arts juried shows provide artists in our membership, as well as in our community, the opportunity to expose their art to impressive and influential jurors, and exhibit their work in a highly regarded Gallery space. Many artists have been inspired to create work and develop their styles through our juried shows.


Below is a list of upcoming opportunities for artists at the East End Arts Gallery: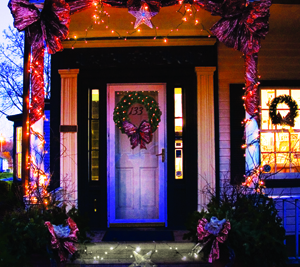 Shop Dates: November 12 - December 24, 2016
Online Application Deadline Extended to: Tuesday, October 25, 2016
Sell your one-of-a-kind handmade ornaments, greeting cards, jewelry and wearables, giftware, and more at East End Arts Gallery's Holiday Gift Boutique. Locally made items will fill East End Arts three gallery rooms from top to bottom as visitors from all over the Island come to EEA to buy exclusive and artistic gifts.
Grand Opening: Saturday, November 12, 2016, 12 - 5 PM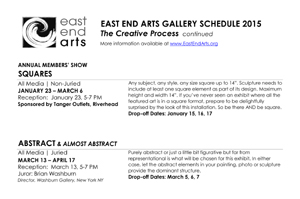 Theme: The Creative Process, continued
Please Note: Dates are subject to change due to unforeseen circumstances. Check individual prospectus for each show for up-to-date information.
Questions? Contact Gallery Director: gallery@eastendarts.org or 631-727-0900


^ Back to Top
Opportunities for Artists at East End Arts

Below is a list of upcoming opportunities for artists, outside of the EEA Gallery:
click for more info