Calls for Artists

JUMP TO: East End Arts Gallery | Entry Forms | Other Opportunities at East End Arts


Opportunities for Artists in the East End Arts Gallery

East End Arts juried shows provide artists in our membership, as well as in our community, the opportunity to expose their art to impressive and influential jurors, and exhibit their work in a highly regarded Gallery space. Many artists have been inspired to create work and develop their styles through our juried shows.


Below is a list of upcoming opportunities for artists at the East End Arts Gallery:
Two-dimensional art (any subject) | Juried
Exhibition Dates: August 5 – September 21, 2016
Reception: Friday, August 5, 2016, 5 - 7 PM
ONLINE APPLICATION ONLY
Entry Deadline: April 5, 2016
Extended Deadline: April 12, 2016 (add'l fee)
Four different jurors choose four different exhibits from the same pool of entries. The gallerist's chosen show will be hung in the East End Arts Gallery. The other shows will be displayed on monitors in our Gallery, and all four shows will be visible on our website. Two-dimensional art, any subject may be submitted.
Jurors:
The Gallerist: Peter Marcelle
Director, Gerald Peters Gallery, New York, NY; Owner, Peter Marcelle Project, Southampton, NY
The Artist: Eric Ernst
Internationally renowned artist and columnist
The Critic: Joyce Beckenstein
Published art critique for NY Times & contributing editor to dozens of art periodicals
The Kid: A 12-year-old kid chosen by lottery



Open to all painting, pastel & drawing media | Juried
Exhibition Dates: April 29 – June 10, 2016
Drop-off Dates: April 21, 22, 23, 2016
Juror: Mark Humphrey of Mark Humphrey Gallery, Southampton, NY
Meaning if you are right-handed you would, on your honor, create a piece entirely with your left hand – or visa versa. If you cheat you won't get the experience of accessing a new and different component of your creativity. This is an exploration guaranteed to surprise and delight all who attempt an entry.
Reception: Friday, April 29, 2016, 5 - 7 PM



All Media | Juried
Exhibition Dates: June 17 – July 29, 2016
Drop-off Dates: June 9, 10, 11, 2016
Jurors: Deanne Shashoua and Michael Lyons Wier of Lyons Wier Gallery, New York, NY
It's not just about replicating superficial features, it's about capturing something deeper and therefore more authentic about an individual. It's the gesture that predicts the character, an expression that reveals the thinker. When skill expresses insight, the artist rocks the portrait.
Reception: Friday, June 17, 5 - 7 PM



HOLIDAY GIFT BOUTIQUE 2016 // Prospectus and online application coming soon

Shop Dates: November 12 - December 23, 2016
Online Application Deadline: Thursday, October 20, 2016, 5:00 PM
Sell your one-of-a-kind handmade ornaments, greeting cards, jewelry and wearables, giftware, and more at East End Arts Gallery's Holiday Gift Boutique. Locally made items will fill East End Arts three gallery rooms from top to bottom as visitors from all over the Island come to EEA to buy exclusive and artistic gifts.
Grand Opening: Saturday, November 12, 2016, 12 - 6 PM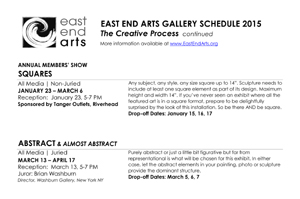 Theme: The Creative Process, continued
Please Note: Dates are subject to change due to unforeseen circumstances. Check individual prospectus for each show for up-to-date information.
Questions? Contact Gallery Director: gallery@eastendarts.org or 631-727-0900


^ Back to Top
Opportunities for Artists at East End Arts

Below is a list of upcoming opportunities for artists, outside of the EEA Gallery:
click for more info
Thursday, July 28, 2016 5:00 pm - 9:00 pm

Thursday, August 11, 2016 5:00 pm - 9:00 pm

Thursday, August 25, 2016 5:00 pm - 9:00 pm