Upcoming Events
Bakithi Kumalo & David Bravo IN CONCERT at The Stephen Talkhouse, Amagansett, NY
Monday, July 24, 2017 7:00 pm - 9:00 pm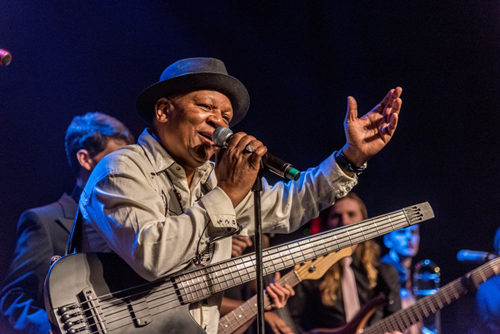 Location:
Presented by East End Arts at The Stephen Talkhouse, 161 Main St, Amagansett, NY 11930
Description:
Bakithi Kumalo & David Bravo IN CONCERT
with East End Arts Music Masters Students
Summer 2017 Tour ● Long Island, New York

International celebrity musician Bakithi Kumalo, longtime bass player for Paul Simon, and pianist David Bravo, will be touring Long Island during Summer 2017, with featured performances by talented East End Arts Music Masters Mentorship program students, performing at various key venues of the LI music scene, including The Stephen Talkhouse, The Jazz Loft, House of Brews in Port Jefferson, 89 North in Patchogue, and Hotel Indigo East End.

Don't miss this special opportunity to see Bakithi and David perform live, alongside talented East End Arts Music Masters student musicians from across Long Island this July and August! Ticket sales proceeds will go towards future funding for Music Masters Mentorship programs to ensure that others can receive this training, experience and exposure.

Tickets available below and at the door the night of the event.

Tickets: $20 each
Advance ticket sales online end on Monday, July 24, 2017 at noon. Tickets also available at the door the day of the event.
All proceeds benefit East End Arts.

Bakithi Kumalo is a South African bassist, composer and vocalist who has worked with a wide variety of diverse artists including Gloria Estefan, Herbie Hancock, Chaka Khan, Harry Belafonte, Cyndi Lauper, and Paul Simon. He has been active as well as a solo artist, with four albums to his credit – 1998's San'Bonan, 2000's In Front of My Eyes, 2008's Transmigration, and 2011's Change – as well as three award-winning children's albums recorded with his wife, vocalist Robbi Kumalo. Kumalo's bass-playing history began in Soweto where he grew up surrounded by music. "I picked up the bass early and realized I could follow the groove of a tune with it. I could play the bass lines from a cappella music, and I learned how to develop lines based on the left-hand work of accordion players in the township bands."

Photos credit: Jim Lennon. From East End Arts Music Masters Concert at Westhampton Beach Performing Arts Center on February 11, 2017.

For more info and complete concert schedule, click here >>
This form stopped accepting submissions on July 24, 2017 12:00 pm EDT.